Kindergarten Enrollment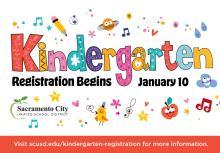 Kindergarten Registration for 2023-2024
To be eligible to register for kindergarten for the Fall, children must be five years old on or before September 1, 2023.
Children that turn five years old September 2, 2023 through April 2, 2024, have the opportunity to enroll in one of our Transitional Kindergarten (TK) programs. Information on TK registration will be available later in 2023.
Visit SCUSD's School Finder to determine your child's school of residence based on school boundaries and learn about all our school options.
Click here for more information about Theodore Judah's TK & Kindergarten Programs. School Tours will be held in January 2023. Please click here for more information. You can sign up directly using this form.
Registration Information
SCUSD Registration for New, Existing or Previous Students
Parents/guardians can register their student for kindergarten by one of the following methods:
at their neighborhood school (January 10-24, 2023 only)
Download Registration Packet
2023-2024 Kindergarten Registration Packet
To register, families will need to provide photo identification, address verification, proof of birth documentation, and the child's immunization record. See the full list of required enrollment documentation.
Immunization Requirements
Parents' Guide to Immunizations | Spanish
SCUSD is also offering free Immunization Clinics to eligible students. See Immunization Clinic schedule.
Open Enrollment
If you are interested in enrolling in one of our schools through Open Enrollment, please visit our Open Enrollment page to learn about the process. Families can apply for 2023-2024 Open Enrollment between February 1-15, 2023.
It is recommended that you register your kindergartener at their neighborhood school before applying for Open Enrollment in case your child is not selected through the lottery.
If you have any questions about kindergarten enrollment, please contact the Enrollment Center.