Transitional Kindergarten Enrollment
Transitional Kindergarten Applications for 2023-2024 start February 21st, 2023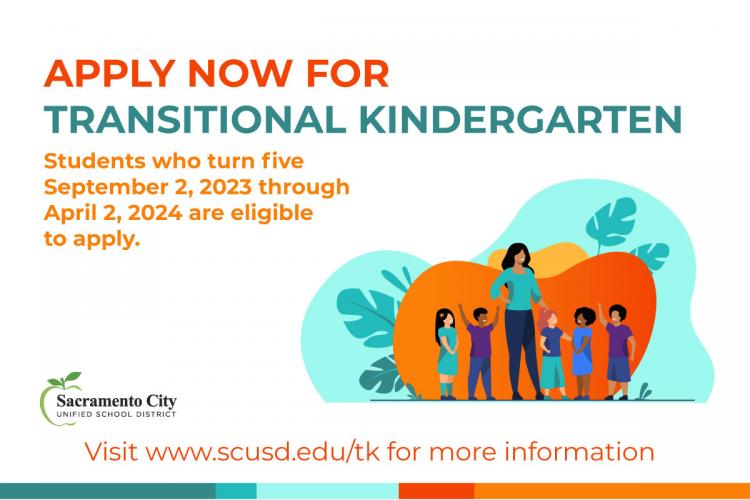 Transitional Kindergarten (TK) is a stepping stone between preschool and kindergarten. The optional program provides students with an additional year of preparation, so they enter kindergarten with stronger academic, social, and emotional skills needed for future success in school
To qualify to register for TK, students must be 5 years of age September 2, 2023, through April 2, 2024 and live within the Sacramento City Unified School District boundaries.
Parents will be able to submit applications online or by downloading the TK Application packet and submitting it to the Enrollment Center (5601 47th Avenue) starting on Tuesday, February 21, 2023.
To apply, families will need to provide photo identification, address verification, and proof of birth documentation.
School Choice
Enter your address into School Finder at http://www.scusd.edu/school-finder, to find your neighborhood school and/or the closest TK program.
Families can choose to apply to any TK location, but priority for school selection is the following:
1. Students who reside within the selected school boundaries* and/or is the closest TK location to their primary residence.
2. Siblings of students already in attendance at the selected school and will continue to be enrolled in the upcoming school year.
3. Students whose parent/guardian's primary place of employment is the selected school.
*A.M. Winn, Alice Birney and Leonardo da Vinci schools are schools of choice and do not have neighborhood boundaries. Applicants to these programs will not receive priority based on location.
Lottery and Registration
A lottery must be implemented if applications exceed the grade capacity at the requested school. Enrollment will be based on lottery results held in May 2023. Enrollment at the school of residence is not guaranteed. After the lottery, families will be notified of their application's status. Families will either be offered placement or put on a waitlist for their requested school. Families that are offered placement will have to complete the registration process with the Enrollment Center. If a qualified student is on the waitlist for a school, the District will identify a seat at the nearest school site with space available. No qualifying student will be denied a spot into Transitional Kindergarten.
Applications that are received after the May 2023 lottery, will be processed based on space availability at the time of the application.
Before and After School Care
Families who are interested in having their TK student in Sac City Unified's Expanded Learning program will be given priority. Registration will be available at https://www.youthdevelopmentscusd.org/ starting in March 2023.
Questions & Support
Early Childhood and Care Enrollment staff are available Monday-Thursday 8:00am-3:30pm and Fridays 8:00am-12:00pm at the SCUSD Enrollment Center (5601 47th Avenue) to help families apply. They can also be reached at (916) 395-5500.